This month we are spotlighting one of our very favourite Debutante Ball themes, CHICAGO! We absolutely love everything about this story; the era, the fashion, the music and most of all – the sass.


When you choose this theme for your Debutante Ball we will take you back to a time of prohibition, jazz and celebrity criminals.Where the women smouldered and the men took style to another level.
Chicago is set in 1924 at a time when the city was fascinated with criminals, particularly women that killed their husbands or lovers. The style of the time reflected the intrigue, darkness and sexiness that is associated with the lead characters, Velma Kelly and Roxie Hart, both Vaudevilles and murderers.
While in prison Velma Kelly is still very much a celebrity whose exploits were regularly reported in the Chicago Tribune, until that is, Roxie Hart bursts onto the cabaret scene and steals all the attention from Velma! Roxie is also convicted of murdering her lover and ends up in prison with Velma where a battle for the limelight ensues eventually ending in an unlikely double-act which creates the success they have both craved.

IGBY Productions love a good musical and this one has it all! Glamour, corruption, sex, murder, rivalry and attitude. We integrate so much of this story into our debutante ball that the theme is unmistakable. The tables have feathers, crystals, sequins and glitter. The lighting is set low and red to give the atmosphere of being in a cabaret show. Our MC is in character right from the start and she brings the theme to life as if she were Velma Kelly herself.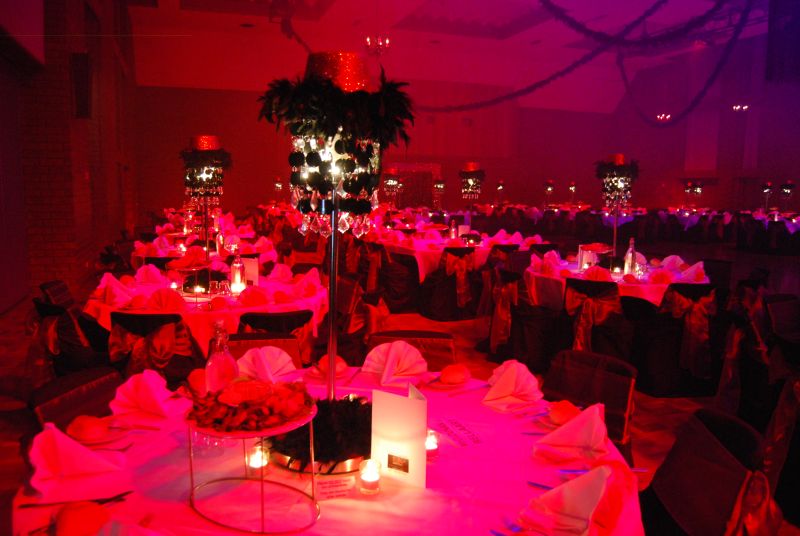 All the music for the night is from the musical, your deb presentation dances will be rehearsed to this music in your dance lessons. Then on the night, in the second presentation, you will wear accessories that match the theme bringing it even more to life and tying everything together perfectly.If Chicago sounds like a theme you and your group would enjoy then speak to us about choosing this fantastic option for your Debutante Ball!